Introduction
Frame construction, independent and even force of each mold assures the high-quality of cured tires.
Upper mold lifting vertically assures mold good alignment and concentricity, repeatability of upper and lower mold.
C or BOM type center mechanism.
Hydraulic element, PLC and electric element adopts world famous brands.
The shorter curing time.
| | | | | | |
| --- | --- | --- | --- | --- | --- |
| Type | 1140 (45``) | 1220 (48``) | 1330 (51``) | 1600 (65.5``) | 1620 65.5``) |
| Inner Dia. of Shield(mm) | 1,140 | 1,220 | 1,330 | 1,600 | 1,620 |
| Max. Mold Closing Force(KN) | 1,360 | 1,920 | 2,200 | 4,500 | 3,920 |
| Dia. of Bead (inch) | 12--18 | 14--20 | 15--20 | 20--24.5 | 20--25 |
| Adjusting Distance of Mold(mm) | 190--430 | 203--457 | 310--630 | 410--635 | 400--650 |
| Heating Method | Platen | Platen | Platen | Platen | Platen |
| Max. Height of Green Tire (mm) | 370 | 500 | 520 | 520 | 650 |
| Max. Dia. of Green Tire (mm) | 760 | 830 | 870 | 1,100 | 1,200 |
| | | | | | |
| --- | --- | --- | --- | --- | --- |
| Type | 1700 (67``) | 1725 (70``) | 4500 (177``) | 4800 (186``) | 5000 (200``) |
| Inner Dia. of Shield(mm) | 1,700 | 1,725 | 4,500 | 4,800 | 5,000 |
| Max. Mold Closing Force(KN) | 3,200 | 4,400 | 36,000 | 40,000 | 49,000 |
| Dia. of Bead (inch) | 16--24 | 15--24.5 | 39--57 | 51--57 | 51--63 |
| Adjusting Distance of Mold(mm) | 420--620 | 390--570 | 1,010--1,410 | 1,250--1,600 | 1,500--1,900 |
| Heating Method | Platen | Dome | Dome | Dome | Dome |
| Max. Height of Green Tire (mm) | 700 | 830 | 1,800 | 1,400 | 4,000 |
| Max. Dia. of Green Tire (mm) | 1,260 | 1,300 | 3,500 | 3,594 | 4,120 |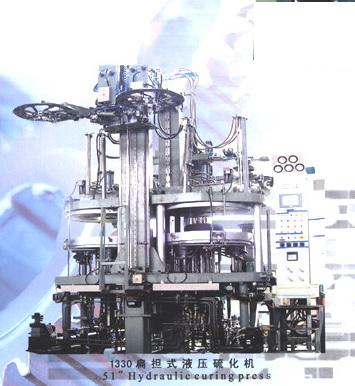 51`` Hydraulic curing press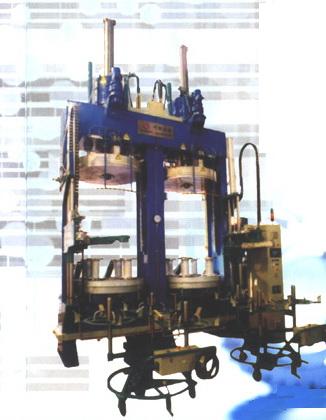 48`` Hydraulic curing press